"The sky is the limit only for those who are afraid to fly." - Bob Bello


Current Mission:
Since its very beginning Bravo Fleet has always had one ship named Saturn. The last so named was an Ambassador Class ship. The history of this vessel and her crew has been etched in the memories of her former crew now spread throughout Star Fleet and beyond. In honor of her adventures a new ship has been given this name and now returns for new adventures deep within the Delta Quadrant.
The mission of this
Rhode Island
Class vessel is to seek out new life and civilizations in a quest to find new allies and old renew old ties forged by Voyager. We may be cut off from home, but we're not alone.
Saturn
and Task Force 38 will prevail as long as we remember who we are; Star Fleet Officers.
-Captain Elias Ross, Commanding Officer
Looking to create a lasting adventure? Want to war with Hirogen? Find new life? Plant a flag on a new uncharted planet? Join the Saturn today, let's see what we can create together!
Latest News Items
Posted on Wednesday February 14th, 2018 @ 7:58pm by Captain Elias Ross in General News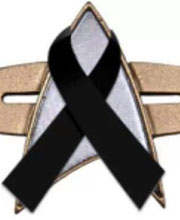 On behalf of the crew of the Saturn, I'd like to offer my condolences to the children of Parkland, Florida and to their families. Once again the US is facing another tragedy in our schools. May the dead find rest and may the mourning find peace.

Paul/Eli Ross
GM/CO
USS Saturn
Posted on Saturday August 26th, 2017 @ 1:31am by Captain Elias Ross in General News
Please Welcome to the fold Sarah and Ricky. They play Jaylin Vodor, Chief Medical Officer and Orakix, Chief Security and Tactical Officer respectfully.

Welcome you two to the team.

I can't wait to see what we can create together.

Paul/Eli Ross
Posted on Friday August 25th, 2017 @ 6:56pm by Captain Elias Ross in Sim Announcement
Please Welcome Aaron to Saturn,

He will be playing our new Chief Engineer Tyvan "Ty" Naros. He brings with him years of simming experience and I can't wait to work with him the future.

Welcome Aaron,

Paul/Eli
Posted on Tuesday August 8th, 2017 @ 10:59pm by Captain Elias Ross in General News
Hello,

Please make sure to sign in to our new Domain name

http://saturn.bravofleet.games

That is all

Paul/Eli
Latest Mission Posts
Mission: Character Building
Posted on Tuesday February 13th, 2018 @ 2:08am by Ensign B'mala Otlhoq & Lieutenant JG Cristina Hartley
With the Saturn having docked at the Starbase, it had been the perfect time for Cristina to explore the base a little with B'mala, although she would have been happy to do just about anything with her. She still felt elated at having her as a girlfriend; it was the…
Mission: Character Building
Posted on Monday February 12th, 2018 @ 9:29pm by Captain Elias Ross
Ross disliked meeting with Admirals. Either it meant he was being disciplined or he was being promoted. And promotions always meant more work. It was 3am on Kartelan II which only enhanced Eli's apprehension. Nothing good happens after 3am.

Ross stood in the lift and waited as the car ascended…
Mission: Character Building
Posted on Tuesday February 6th, 2018 @ 1:25am by Lieutenant JG Cristina Hartley & Captain Elias Ross
Having organised the engineering staff quickly, Christina had managed to grab a moment to wash her hands and face and change into something other than her uniform. She didn't have anything formal, and not enough time to get herself measured, so she wore the only real casual clothes she had;…
Mission: Character Building
Posted on Tuesday February 6th, 2018 @ 1:12am by Lieutenant JG Cristina Hartley & Ensign B'mala Otlhoq
Cristina didn't want to open her eyes, as she was loving the dream she was having. The dream was of her and B'mala, and she felt...content. But she opened her eyes, and smiled as she saw B'mala, seeing that it hadn't been a dream. Parts of her body ached, but…
Mission: Character Building
Posted on Tuesday February 6th, 2018 @ 12:34am by Ensign B'mala Otlhoq & Lieutenant JG Cristina Hartley
Cristina ran along the canyon, chasing her target, when a rock fell a few meters ahead of her. Without hesitation, she kicked up from the ground and moved forward, rolling in the air as she did. She landed on her feet, and continued running, but before long seeing a hole…
Latest Personal Logs
Posted on Sunday October 15th, 2017 @ 11:15pm by Lieutenant Commander Ellis Gordon
Computer, Encode Personal Log Gordon under voice print authorization.

Mission Day 2, 2310 hours. I had the pleasure to meet an Andorian today. His name is Shon Th'shynal. He seems quite eager to get into trouble. The young always seem to think that battles will bounce off of them. Shon…
Posted on Wednesday September 27th, 2017 @ 8:59pm by Lieutenant Commander Ellis Gordon
Computer, Encode Personal Log Gordon under voice print authorization.

I had the pleasure of meeting Captain Ross this morning. He is a dedicated professional. I believe we can work well.

During the day, I encountered the quartermaster. He turned over a small package addressed to me. It's from Chiro, Persephone…
Posted on Monday September 18th, 2017 @ 11:54pm by Lieutenant Commander Ellis Gordon
Computer, Encode Personal Log Gordon under voice print authorization.

I've arrived on the USS Saturn. I left Persephone Colony with one duffle bag. One has to travel light with Intelligence. Even the stuff I carried along to this assignment might be considered too much. An old photo of Toni at…
Posted on Wednesday September 6th, 2017 @ 9:56am by Lieutenant Commander Aeryn Kelan
"Computer, start log AerynKelan 1029

I arrived earlier today, and met with the Captain and a few other crew members. I have not had the chance to even go to my diplomatic office settle in the counselling office. I am not sure if I would have staff or not. I…
Posted on Tuesday August 29th, 2017 @ 9:16am by Ensign Dehvon Raynah
Begin:

Operations log stardate: 65659.3, Ensign Dehvon Raynah recording. I haven't met with any of the new crew yet but they seem to be doing rather well. Captain Ross has seen fit to promote me to Chief of Operations for this ship and I am thankful for him doing so.…